The Go-to Backdrop and Flowerwall Rental Company in Toronto
Imagica offers a comprehensive range of event rentals and planning services across Brampton, Mississauga, and Toronto. Elevate your occasions with our captivating offerings, including shimmer wall backdrops, flower wall rentals, marquee letters, neon signs, standard backdrops, and custom backdrops.
Our expertise extends to weddings, corporate events, and parties, where we provide personalized touches such as step and repeat banners and uplighting. With an emphasis on quality and creativity, our event rentals ensure a seamless, unforgettable experience.
Explore our collection for the perfect wedding flower wall backdrop, boxwood wall panels, or corporate event decor. At Imagica, your event vision is transformed into an exceptional reality, complete with delivery options like photo backdrop next day delivery.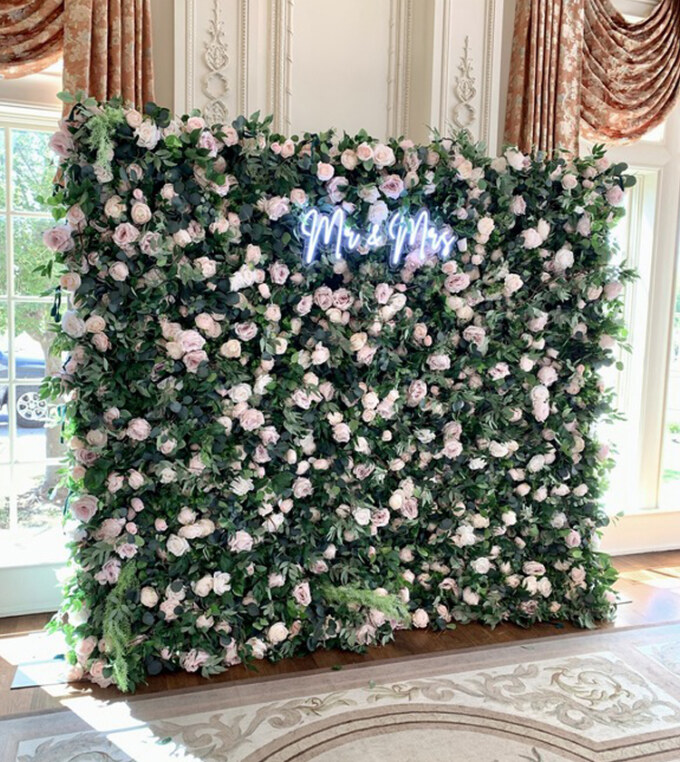 Backdrop and Flowerwall Rental Services
Why Choose Imagica?
Elevate every event's ambiance with Imagica, your ultimate source for event enhancements and rentals. Our extensive offerings in the Greater Toronto Area include flower walls, personalized backdrops, neon and marquee letters, all designed to transform any occasion into a captivating experience. Our 3D flower walls are the epitome of quality, radiating vibrant colors and tailored designs.
Complementing our floral marvels are a diverse array of backdrops and signs, each customizable to your preference. Unrivaled in selection, Imagica boasts an unparalleled range of styles and colours, ensuring your vision is flawlessly realized. Drawing upon years of industry expertise, we deliver top-tier quality, service, and options to cater to our clients' diverse needs.
Explore our comprehensive inventory, featuring not only flower walls and custom backdrops, but also encompassing elements like the striking boxwood hedge wall, captivating neon signs, and top of the line backdrop rentals. Our dedication extends to providing bespoke options, including custom step and repeat backdrops and custom flower walls. Capture the essence of your special event with our innovative uplighting.
At Imagica, we pride ourselves on creating atmospheres that resonate, ensuring your event remains a captivating memory for years to come.
Event Rentals and Backdrops in Toronto
We've Been Busy! See What We've Been Up 
T.O.
Contact Imagica and Request a Quote!
Check Out Our Reviews!
The Imagica team did an amazing job for our event! We especially loved their attention to detail and fun props.
Imagica Photo Booth came through again for Brampton Hockey. The players all enjoy being able to take fun pictures with their teammates and friends, and the staff is there to ensure that its done right. The custom background and border adds the extra touch to make your event memorable.
Our student conference came to life when the Imagica photo booth was up and running. Great energy, and fantastic photo memories of the day. Staff were professional and patient. Company was easy to deal with, detail oriented, and flexible to the needs of a large event. Will definitely use again.
Thanks to the Imagica team for bringing that final touch to our gala event, creating an experiential and interactive audience engagement that further supported our back end objectives.
Joseph and his team were a huge part of our party's success. We had both Photo Booth and 360 camera set ups and the team was thrilled. The 360 camera was the hit of the party! What's even better is that you are provided all photos and videos from the event which is great to use in future cultural events. We are looking forward to using Imagica again!
We loved having Imagine at our community conference. Our event catered to attendees of all ages and the photobooth was the perfect interactive way to take home memories from the night. The Imagica ambassador was friendly and fun and really helped all of the guests have a great night! Will definitely book them again!!
Always a pleasure working with the team - responsive, friendly and end product is always amazing.
Imagica is amazing to deal with! We've had them out to a couple Holiday Events and they have always been professional to deal with. Punctual and the quality of the photos are great. Love having all the digital images a couple days later to share with the attendees. Thanks again!!
Hilary Goodfellow
2022-12-12
Had a GREAT experience working with Imagica during a corporate holiday event. The features available in our photo booth package were really impressive, and the team was a pleasure to work with. Would recommend them to anyone looking for a professional, fun photo booth experience.
Thank you so much Imagica for taking our photos at our Holiday Event. You were punctual and made it so much fun. Definitely a lot of memories made. We will definitely use you for future events.