LIGHTING AND BACKDROP STAND RENTALS
The Best Lighting and Backdrop Stand Rentals for Your Next Event
Elevate your event's ambiance with Imagica's remarkable Toronto event lighting rentals, a specialty that transforms spaces into captivating visual marvels. Our array of lighting designs, including uplights, LED tubes, stage lights, spotlights, and wash lighting, introduces a dramatic and captivating glow that adds an extra layer of "wow" to your visuals. These high-quality rentals are perfect for weddings, parties, corporate events, and more.
Imagica offers a versatile selection of lighting colors, enabling you to personalize your event's ambiance to match your unique style and theme. With the guidance of our expert lighting team, we collaborate to design a lighting plan that elevates the mood and atmosphere of your event, ensuring an impactful experience from the moment your guests step inside. Elevate your space with Imagica's event lighting rentals that transcend expectations, creating an unforgettable environment.
In addition to our lighting expertise, we provide comprehensive solutions with pipe and drape rentals and backdrop rentals. This integration of elements ensures a seamless enhancement for your event, be it a corporate event or a wedding. Whether you're in Brampton, Mississauga, Toronto, or beyond, Imagica is dedicated to making your event shine brilliantly.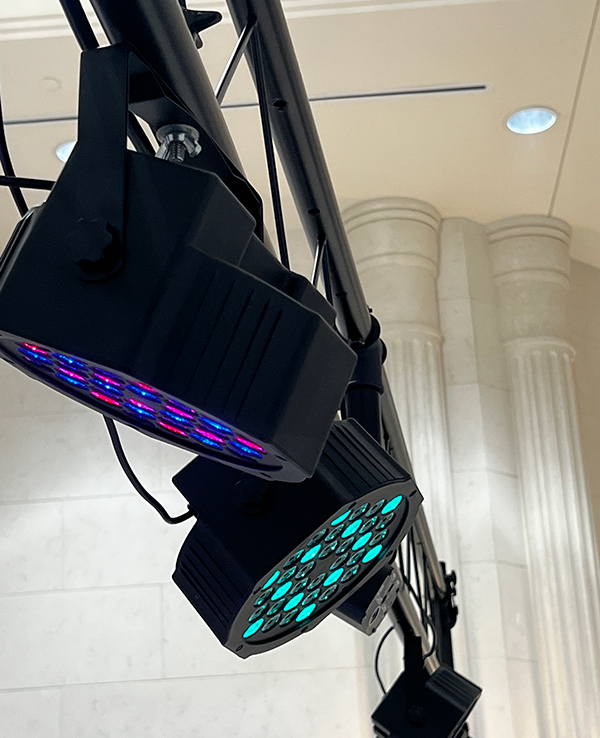 Lighting and Backdrop Stands Gallery
Lighting and Backdrop Stands FAQ